The Caribbean Examinations Council was established in 1972 under Agreement by the Participating Governments in the Area to conduct such examinations as it may think appropriate and award certificates and diplomas on the results of any such examinations so conducted. The Council is empowered to regulate the conduct of any such examinations and prescribe the qualification requirements of candidates and the fees payable by them.
It comprises 16 Participating Countries, Anguilla, Antigua and Barbuda, Barbados, Belize, British Virgin Islands, Cayman Islands, Dominica, Grenada, Guyana, Jamaica, Montserrat, St. Kitts and Nevis, St. Lucia, St. Vincent and the Grenadines, Trinidad and Tobago and Turks and Caicos Islands.
CXC offered its first examinations for the Caribbean Secondary Education Certificate® (CSEC®) in 1979 in five subjects. Subsequent to CSEC®, CXC has introduced a comprehensive suite of qualifications to meet the needs of the region: Caribbean Primary Exit Assessment™ (CPEA™), Caribbean Certificate of Secondary Level Competence® (CCSLC®), Caribbean Vocational Qualification (CVQ), Caribbean Advanced Proficiency Examination® (CAPE®) and the CXC® Associate Degree (CXC®-AD).
With over 40 years of experience, CXC has acquired a wealth of expertise in various disciplines and offers these services to governments and institutions on a consultancy basis.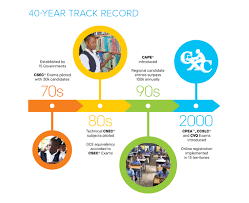 Some of these services include:
Syllabus and Curriculum Development
Competence Development for Professional Certification
Development of Educational Resource Materials
Examinations Development for various levels
Test Construction and Editing
Examinations Production (Formatting and Printing)
Management of Examinations Administration and Security
Psychometric and Data Analysis
Teacher Training (Item Writing and SBA Management)
OUR VISION
To assure the global human resource competitiveness of the Caribbean through the provision of quality assurance in education and comprehensive certification.
OUR MISSION
To provide the region with: syllabuses of the highest quality; valid and reliable examinations and certificates of international repute for students of all ages, abilities and interests; services to educational institutions in the development of syllabuses, examinations and examinations' administration, in the most cost-effective way.
CALENDER
September 2023
M
T
W
T
F
S
S
« Aug
1
2
3
4
5
6
7
8
9
10
11
12
13
14
15
16
17
18
19
20
21
22
23
24
25
26
27
28
29
30